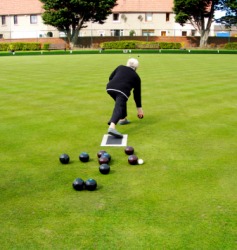 A woman playing on a bowling green.
---
bowling green
a smooth lawn for the game of lawn bowling
---
bowling green
A city of southern Kentucky southwest of Louisville. It was occupied by the Confederates from the start of the Civil War until 1862.
A city of northwest Ohio southwest of Toledo. Bowling Green State University (established 1910) is located here.
---
bowling green
Noun
(plural bowling greens)
Noun
Alternative spelling of bowling green.
---