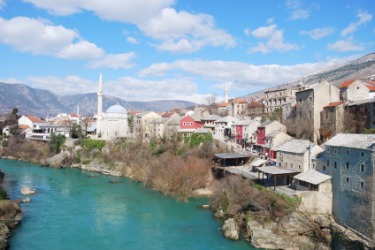 A city in Bosnia and Herzegovina.
---
Bosnia and Herzegovina definition by Webster's New World
country in SE Europe: it came under Turkish rule in the 15th cent. and under Austro-Hungarian control in 1878: it was part of Yugoslavia (1918-91): 19,741 sq mi (51,129 sq km); pop. 4,366,000; cap. Sarajevo
Webster's New World College Dictionary Copyright © 2010 by Wiley Publishing, Inc., Cleveland, Ohio. Used by arrangement with John Wiley & Sons, Inc.
---
Bosnia and Herzegovina definition by American Heritage Dictionary
or Bos·ni·a-Her·ze·go·vi·na also Bos·ni·a-Her·ce·go·vi·na Commonly known as Bosnia
A country of the northwest Balkan Peninsula. It was a constituent republic of Yugoslavia from 1946 to 1991, when it declared its independence. In 1992 the country erupted in war among Serb, Bosniak, and Croat factions. A peace agreement was reached in November 1995 by Balkan leaders in Dayton, Ohio, which called for the creation of two substates, a Croat-Bosniak federation to govern one half of the country and a Bosnian Serb republic to constitute the other half, united under a newly created national presidency, assembly, court, and central bank. Population: 4,550,000.
Bosnia and Herzegovina
The American Heritage® Dictionary of the English Language, 4th edition Copyright © 2010 by Houghton Mifflin Harcourt Publishing Company. Published by Houghton Mifflin Harcourt Publishing Company. All rights reserved.
---
Bosnia and Herzegovina - Cultural Definition
Republic in southeastern Europe on the west Balkan Peninsula, bordered by Croatia to the west and north, Yugoslavia to the east, with a small outlet to the Adriatic Sea to the west. Sarajevo (see also Sarajevo) is the country's capital and largest city.
Sarajevo was the site of the assassination in 1914 of Austrian Archduke Francis Ferdinand, which sparked World War I.

In the early 1990s, brutal attacks by Serbian militia devastated the region, arousing international condemnation. In 1995, leaders of the rival Balkan states of Bosnia, Croatia, and Serbia met in the United States and ended the fighting with a peace accord.