bonsai
[bän′sī′, bän sī′]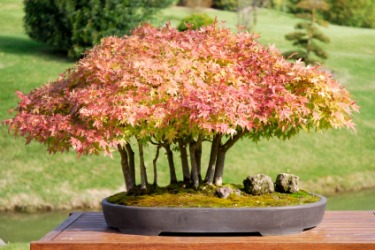 A red maple bonsai.
---
bonsai definition by Webster's New World
noun
the art of dwarfing and shaping trees and shrubs in shallow pots by pruning, controlled fertilization, etc.
pl. bonsai such a tree or shrub
Origin: Japanese bon, literally , basin or pot plush sai, to plant
Webster's New World College Dictionary Copyright © 2010 by Wiley Publishing, Inc., Cleveland, Ohio. Used by arrangement with John Wiley & Sons, Inc.
---
bonsai definition by American Heritage Dictionary
noun
pl.
bonsai
bonsai
The art of growing dwarfed, ornamentally shaped trees or shrubs in small shallow pots or trays.
A tree or shrub grown by this method.
Origin: Japanese, potted plant : bon, basin (from Middle Chinese bən) + sai, to plant (from Middle Chinese tsəj, tsaj).
bonsai
juniper tree
bonsai
Variant of bonsai
noun
the art of dwarfing and shaping trees and shrubs in shallow pots by pruning, controlled fertilization, etc.
pl. bonsai such a tree or shrub
Origin: Japanese bon, literally , basin or pot plush sai, to plant