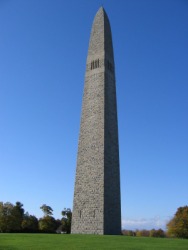 Monument to the battle fought near Bennington.
---
Bennington
town in SW Vt.: in a Revolutionary battle (1777) fought nearby, Hessians sent by Burgoyne were defeated by colonial forces: pop. 16,000
Origin of Bennington
after
Benning
Wentworth (1696-1770), 1st governor of New Hampshire
---
Bennington
Noun
(plural Benningtons)
Origin
From Bennington, Vermont, headquarters of the Bennington Marble Company.
---