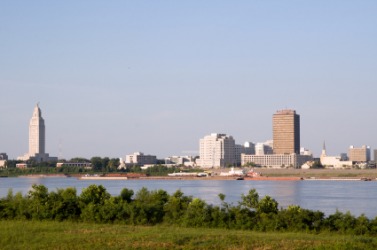 Baton Rouge skyline.
---
Baton Rouge
capital of La., on the Mississippi: pop. 228,000
Origin of Baton Rouge
French translated, translation of Choctaw
ítu-úma
, red pole, a boundary mark, probably between the hunting grounds of two tribes
---
Baton Rouge
The capital of Louisiana, in the southeast-central part of the state on a bluff above the Mississippi River. Founded in 1719 as a French fort, it became the state capital in 1849 and was captured (May 1862) by Union admiral David Farragut during the Civil War. It is a major port of entry and oil-refining center.
---
Baton Rouge
Origin
From the French Bâton Rouge (red stick). The city in Louisiana is so named because there was a red painted pole placed on its site by the Native Americans.
---