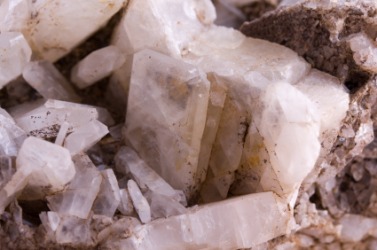 Barite crystals.
---
barite definition by Webster's New World
noun
a soft, heavy, orthorhombic mineral, barium sulfate, BaSO, that is the chief ore of barium, used in making paint, drilling mud, etc.
Origin: ; from Classical Greek barys, weighty (see grave) plush -ite
Webster's New World College Dictionary Copyright © 2010 by Wiley Publishing, Inc., Cleveland, Ohio. Used by arrangement with John Wiley & Sons, Inc.
---
barite definition by American Heritage Dictionary
also ba·ry·tes
noun
A yellow, white, or colorless crystalline mineral of barium sulfate, BaSO4, that is used in paint and as the chief source of barium chemicals. Also called heavy spar.
Origin: Greek barus, heavy; see gwerə-1 in Indo-European roots + -ite1.
The American Heritage® Dictionary of the English Language, 4th edition Copyright © 2010 by Houghton Mifflin Harcourt Publishing Company. Published by Houghton Mifflin Harcourt Publishing Company. All rights reserved.
---
barite - Science Definition
A usually white, clear, or yellow orthorhombic mineral. Barite occurs as flattened blades or in a circular pattern of crystals that looks like a flower and, when colored red by iron stains, is called a desert rose. It is found in limestone, in clay-rich rocks, and in sandstones. Barite is used as a source of barium.
Chemical formula:
BaSO4.