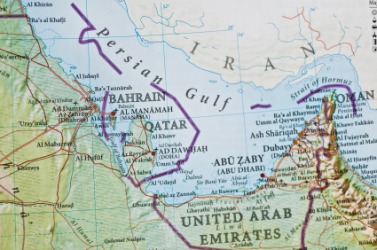 A map showing the location of Bahrain.
---
Bahrain
country on a group of islands in the Persian Gulf, between Qatar & the E coast of Saudi Arabia: formerly a British protectorate, it became an independent state in 1971: 266 sq mi (688 sq km); pop. 518,000; cap. Manama
---
Bahrain
or Bah·rein
A country comprising an archipelago of low sandy islands in the Persian Gulf between Qatar and Saudi Arabia. It was the first Arabian country to strike oil (1932). A British protectorate after 1861, Bahrain became independent in 1971. Manama, on Bahrain Island, the largest in the archipelago, is the capital.
Related Forms:
Bah·rain′i

adjective

& n.
Bahrain
---
Bahrain
Proper noun
A country in the Middle East. Official name: Kingdom of Bahrain.
Origin
From Arabic البحرين (al-Baḥrayn, literally "the two seas"), from بحر (baḥr, "sea"), from Proto-Semitic *baḥr- ("sea").
---