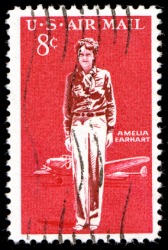 A stamp depicting Aviatrix Amelia Earhart.
---
aviatrix
---
aviatrix
noun
pl.
a·vi·a·trix·es
or
a·vi·a·tri·ces
A woman aviator. Used especially during the first half of the twentieth century.
---
aviatrix
Usage notes
In common usage, the etymologically-consistent plural form aviatrices is over three times more common than the Anglicised plural form aviatrixes.
---