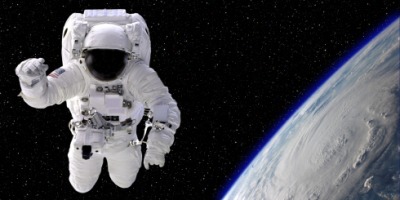 An astronaut floating in space.
noun
The definition of an astronaut is a person who either travels into space or who is trained to travel into space.

An example of an astronaut is Neil Armstrong, the man who walked on the moon.
---
astronaut
a person trained to make rocket flights in outer space
Origin of astronaut
from French
astronaute
: see astro- and aeronaut
---
astronaut
noun
A person trained to pilot, navigate, or otherwise participate as a crew member of a spacecraft.
Origin of astronaut
astro-
Greek
nautēs
sailor
(
from
naus
ship
; see
nāu-
in Indo-European roots.)
---
astronaut

Noun
(plural astronauts)
A member of the crew of a spaceship or other spacecraft that travels beyond Earth's atmosphere, or someone trained to serve that purpose
Origin
Coined from Ancient Greek ἄστρον (ástron, "star") and ναύτης (naútēs, "sailor").
---