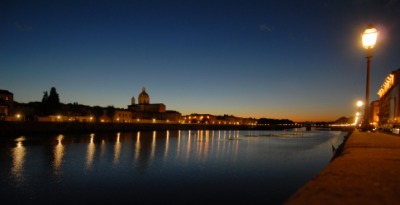 The River Arno in Florence.
---
Arno
river in Tuscany, central Italy, flowing west into the Ligurian Sea: c. 150 mi (241 km)
---
Arno
A river of central Italy rising in the northern Apennines and flowing about 240 km (150 mi) to the Ligurian Sea. Flooding of the Arno in 1966 caused severe damage to art treasures in Florence.
---
Arno
Prefix
arno-
(rare) Forming compound words with the sense of 'lamb, sheep'.
Origin
From the stem of Ancient Greek ἀρήν (arēn, "lamb, sheep")
---