noun
The definition of an amputee is a person who lost part or all of an arm or leg.

A person who had his foot removed surgically to stop the spread of gangrene is an example of an amputee.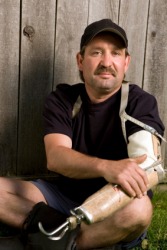 An amputee with artificial arm.
---
amputee
noun
a person who has had a limb or limbs amputated
Origin of amputee
amput(ate) + -ee
---
amputee
---
amputee
Noun
(plural amputees)
A person who has had one or more limbs removed.
---