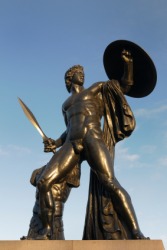 A statue of the Greek warrior, Achilles.
noun
The definition of Achilles is a figure from Greek mythology who was a hero of the Trojan War.

An example of Achilles is the warrior who died from being shot in the heel with an arrow.
---
Achilles
Gr. Myth.
Greek warrior and leader in the Trojan War who kills Hector and is killed by Paris with an arrow that strikes his only vulnerable spot, his heel: he is the hero of Homer's
Iliad
Origin of Achilles
Classical Latin from Classical Greek
Achilleus
---
Achilles
noun
Greek Mythology
The hero of Homer's Iliad, the son of Peleus and Thetis and slayer of Hector.
---
achilles

---