noun
The definition of Achilles is a figure from Greek mythology who was a hero of the Trojan War.

An example of Achilles is the warrior who died from being shot in the heel with an arrow.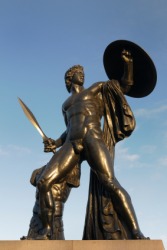 A statue of the Greek warrior, Achilles.
---
Achilles definition by Webster's New World
noun
Gr. Myth.
Greek warrior and leader in the Trojan War who kills Hector and is killed by Paris with an arrow that strikes his only vulnerable spot, his heel: he is the hero of Homer's
Iliad
Origin: Classical Latin ; from Classical Greek Achilleus
Webster's New World College Dictionary Copyright © 2010 by Wiley Publishing, Inc., Cleveland, Ohio. Used by arrangement with John Wiley & Sons, Inc.
---
Achilles definition by American Heritage Dictionary
noun
Greek Mythology
The hero of Homer's Iliad, the son of Peleus and Thetis and slayer of Hector.
The American Heritage® Dictionary of the English Language, 4th edition Copyright © 2010 by Houghton Mifflin Harcourt Publishing Company. Published by Houghton Mifflin Harcourt Publishing Company. All rights reserved.
---
Achilles - Cultural Definition
In classical mythology, the greatest warrior on the Greek side in the Trojan War (see also Trojan War). When he was an infant, his mother tried to make him immortal by bathing him in a magical river, but the heel by which she held him remained vulnerable. During the Trojan War, he quarreled with the commander, Agamemnon, and in anger sulked in his tent. Eventually Achilles emerged to fight and killed the Trojan hero Hector, but he was wounded in the heel by an arrow and died shortly thereafter.
People speak of an "Achilles' heel" as the one weak or sore point in a person's character.

The Achilles tendon runs from the heel to the calf.

Achilles is the hero of Homer's

Iliad

.