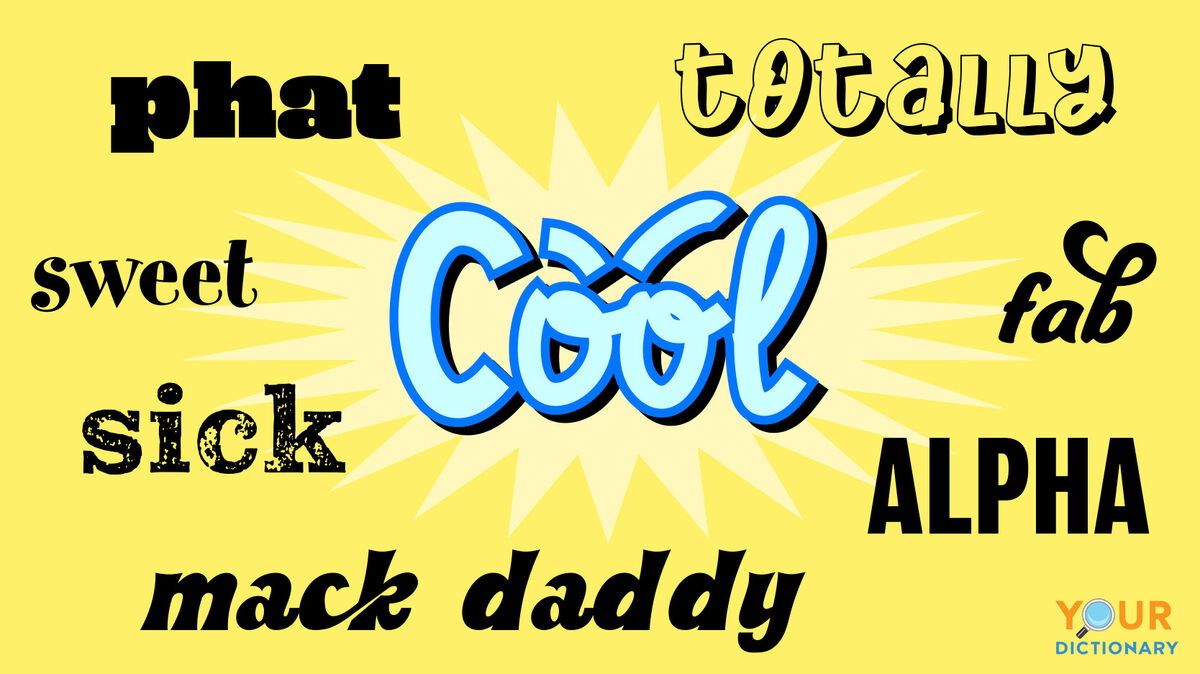 Are you looking for alternatives to the slang term cool? This positive slang word means that something is both very good and popular or fashionable. There are quite a few other words for cool to consider. Whether you're looking for current slang alternatives to cool or you're in search of vintage alternates to the current vernacular, you'll find what you're looking for here.
Looking for current slang for cool? These terms are modern slang words that mean cool. They tend to be popular with teens and young people, along with others who keep up with popular culture.
bad a**
bit**in'
chill
def
dope
fire

fleek
Gucci
it's lit

killer
legit
lit
on fleek
rad
savage

sic
sick
sweet
the sh**
wicked
yeet

Current/Recent Slang for Cool
Current slang comes in and out of the vernacular very quickly. Beyond the newest ways to say cool, there are other acceptable options generally considered current, though tweens and young teens might disagree.
alright
awesome
boss
copacetic
down
excellent
fab
fantabulous
first-class
first-rate
grand
hot
heavenly
keen
out-of-sight

peachy
phat
primo
radical
righteous
stellar
stupendous
top-flight

top-notch
Various slang terms have been used as synonyms for cool in past decades. These terms are still used in casual conversation as slang for cool by people who grew up saying them and others who have picked them up along the way.
a-ok
au courant
bang-up
boffo
crackerjack
dandy
dynamite
hep

hip
in
groovy
moc
neat
neato
nifty
par excellence
peachy keen
prime
prize

swell
that's hot
totally

turned on
with it
Looking for a slang term or phrase to describe a cool person, such as someone who is particularly popular or admired? Check out the alternatives below to find a term that perfectly fits the individual you wish to describe.
alpha
babe
bro
bruh
a-lister

all that
big dog
daddio

diva
dude
glitterati
head honcho
influencer
laid back
leading lady
mack daddy
main man
muckety-muck
pimp
queen bee
red-hot
superstar
trendsetter
Slang for Cool Fashion/Apparel
While standard slang terms can be used to describe fashion items, some other terms are also used to describe cool clothing. Consider the terms below for a creative way to pay someone a compliment on what they're wearing.
a la mode
all the rage
bang
chic
dapper
edgy
fashionable
fresh
fly
modish

now
on-trend

posh
sharp
snatched
snappy
snazzy
spiffy
stylin'
stylish
trendy
trendsetting
up to date
up to the minute

voguish
More Formal Words for Cool
While cool is often used as a slang term, sometimes what you really need is a more formal term that expresses the same sentiments. The words below are proper terms that can easily be used as other words for cool.
acceptable
appropriate
captivating
cosmopolitan
dauntless
delightful
exceptional
exemplary
fabulous
grand
lovely
magnificent
marvelous
outstanding
sensational
sophisticated
splendid
superb
suitable
undaunted
wonderful
Sometimes considering antonyms — also known as non-examples — of a slang term helps you understand what the word really means. Quite a few proper English words represent the opposite of the slang meaning of cool.
awkward
basic
behind the times
cheesy
dorky
dowdy
geeky
graceless
lame
nerdy
nervous
obsolete
old-fashioned
old-hat
out
outdated
sad
slovenly
square
tacky
uncool
unfashionable
unhip
untrendy
wimpy