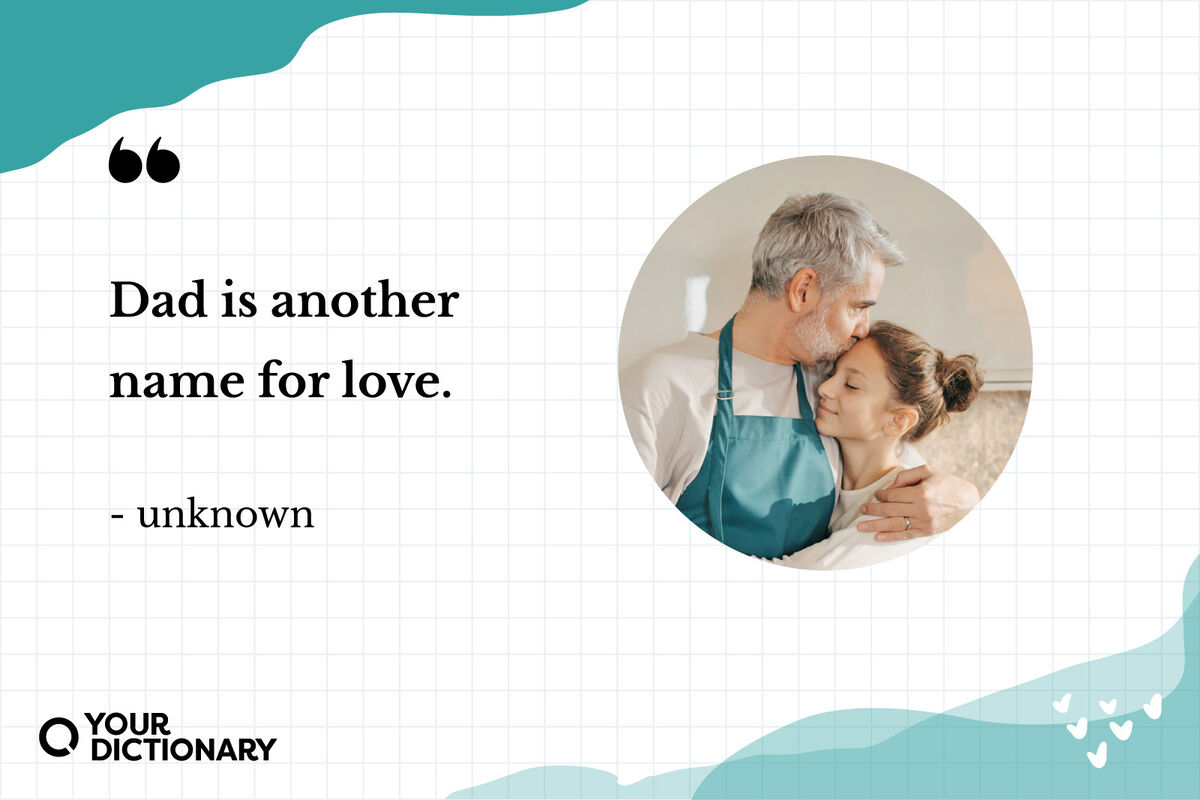 Why not show the special man in your life how much he means on Father's Day with a saying or quote tailored just for him. There are endless expressions, from funny to inspirational, that are sure to melt his heart and put a smile on his face.
Special Sayings for Father's Day
What do you give the dad who has everything? Consider writing a special saying in a card or making him a gift that contains a quote or phrase that reminds you of him. When choosing a saying be sure to keep in mind your dad's personality and sense of humor.
Show your dad that you appreciate his funny side. The following quotes are ideal to use for the dad who doesn't take things too seriously.
Wishing you a Father's Day as fun as life was before you had us kids! - unknown
I am smiling because you are my Dad. I am laughing because there is nothing you can do about it. - unknown
A father is a banker provided by nature. - French proverb
One thing that is always true: If Mom says No, just ask Dad. - unknown
Dad, without me, today would be just another day. Happy Father's Day! - unknown
The older I get, the smarter my father seems to get. - Tim Russert
Dad taught me everything I know. Unfortunately, he didn't teach me everything he knows. - Al Unser
A father carries pictures where his money used to be. - unknown
Celebrate your dad with a loving and thoughtful saying. You can speak straight from your heart and let your dad know how much he means to you. Below are some loving saying that are ideal for Father's Day:
A father is a bright star that shines as an example in your heart. - unknown
Some people may not believe in heroes, those people are the ones that never met my Dad! - unknown
To the world, you are a dad. To our family, you are our world. - unknown
Any man can be a father, but it takes someone special to be a Dad! - Anne Geddes
DAD = Devoted And Dedicated - unknown
Old as she was, she still missed her Daddy sometimes. - Gloria Naylor
Dad is another name for love. - unknown
You are the type of dad everyone else wishes they had. - unknown
No matter how far apart, a dad will remain forever in your heart. - unknown
He dries your tears, kisses your cheek and makes things feel like they are always ok. - unknown
No matter how old I get, know that I will always be Daddy's little girl. - unknown
When a father gives to his son, both laugh; when a son gives to his father, both cry. - Jewish Proverb
A dad can be a true inspiration in your life. Father's Day is the perfect time to tell him just this. Below are some inspirational sayings to share with you dad:
A father is someone you look up to no matter how tall you grow. - unknown
Thank you, Dad, for believing in me and staying by my side, through all the ups and downs in life and every bumpy ride. - unknown
You have been my support through good times and bad and I feel lucky indeed to call you my Dad! - unknown
Blessed indeed is the man who hears many gentle voices call him father! - Lydia M. Child
Father! - to God himself we cannot give a holier name. - William Wordsworth
A father is an angel sent straight from heaven. - unknown
God knew exactly what he was doing when he made you a dad. - unknown
It is a wise father that knows his own child. - William Shakespeare
My mother gave me my drive, but my father gave me my dreams. Thanks to him, I could see a future. - Liza Minnelli
A good father is one of the most unsung, unpraised, unnoticed, and yet one of the most valuable assets in our society. - Billy Graham
If you sometimes find it hard to express yourself with your dad, Father's Day can be the perfect time to let your dad know how you feel about him. Show him you care with heartwarming words that reflect your relationship and exactly what he means to you.