whipping cream
whipping cream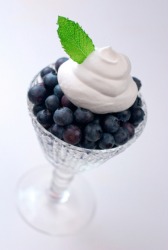 Blueberries topped with whipping cream.
noun
Whipping cream is sweet cream that can be used to make a desert topping, or is a desert topping made by quickly beating milk and sugar together until stiff.

An example of whipping cream is Reddi-Whip that you put on top of your ice cream sundae.
---
whipping cream
sweet cream with a high percentage of butterfat, that can be whipped until stiff
---