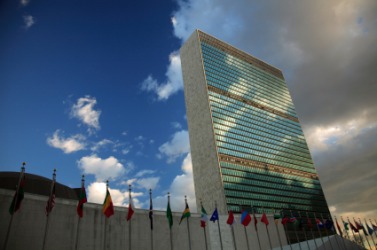 The United Nations headquarters in New York.
noun
The United Nations is an international organization that works to promote peace, security and cooperation.

An example of United Nations is the organization that meets on the 18-acre site located on the east side of Manhattan in New York.
---
United Nations
☆
an international organization of nations pledged to promote world peace and security, maintain treaty obligations & the observance of international law, & cooperate in furthering social progress: the organization was formed in San Francisco in 1945 under a permanent charter (ratified by 50 countries) that had its inception in conferences (1941-45) held by nations opposed to the fascist coalition of Germany, Japan, Italy, & their satellites: the headquarters has been in New York City since 1946 and the membership (March, 2007) consists of 192 nations
---
United Nations
Abbr.
UN
An international organization composed of most of the countries of the world. It was founded in 1945 to promote peace, security, and economic development.
---
United Nations
Proper noun
An international coalition, founded 24 October 1945, headquartered in New York City
---
united nations - Computer Definition
See UN. United Nations/Electronic Data Interchange For Administration, Commerce, and Transport (UN/EDIFACT) See UN/EDIFACT.
---