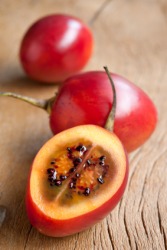 Tamarillo fruit.
---
tamarillo definition by American Heritage Dictionary
noun
pl.
ta·ma·ril·los
In both senses also called
tree tomato
.
A subtropical tree (Cyphomandra betacea) native to the central Andes and cultivated especially in New Zealand for its edible fruit.
The tart, dark red or yellow, plumlike fruit of this tree.
Origin: Alteration of tomatillo.