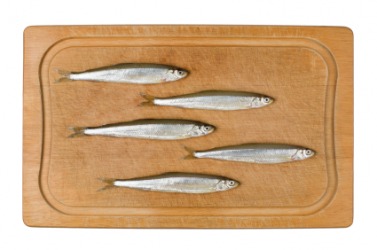 Some brislings or sprats on a cutting board.
---
sprat
noun
any of a genus (Sprattus) of small, silvery herrings of temperate seas, esp. a European species (S. sprattus) often canned as food
Origin of sprat
; from Middle English
sprotte
; from Old English
sprott:
for Indo-European base see sprout
---
sprat
noun
Any of various small marine food fishes of the genus Sprattus, especially S. sprattus of the northeast Atlantic Ocean and the Mediterranean and Baltic Seas, eaten fresh or smoked and often canned as a sardine. Also called brisling.
Any of various other fishes of the family Clupeidae, such as a young herring.
Origin of sprat
Middle English
sprot, spratte
, from Old English
sprot
.
---
sprat
Noun
(plural sprat or sprats)
Origin
a variant of Old Enbglish sprott, related to German sprott and Norwegian sprot, small rod.
---