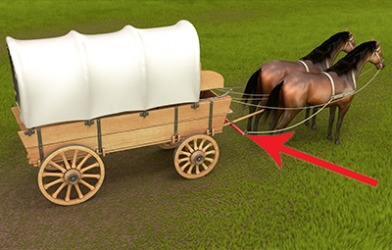 The singletree (indicated by the red arrow) balances the pull on the animals alternate shoulders as they walk.
noun
The definition of a singletree is a bar between the pulling animal and the wagon or plow that balances the weight being pulled.

An example of a singletree is a metal crossbar between a horse and a buggy.
---
singletree
a wooden bar swung at the center from a hitch on a plow, wagon, etc. and hooked at either end to the traces of a horse's harness
Origin of singletree
altered (as if from single) from
swingletree
from Middle English
swingle
, rod, whip +
tre
, tree
---
singletree
noun
The pivoted horizontal crossbar to which the harness traces of a draft animal are attached and which is in turn attached to a vehicle or an implement. Also called Also called regionally whiffletree . Also called whippletree .
Origin of singletree
Alteration
(influenced by
doubletree
)of
swingletree
---
singletree

---