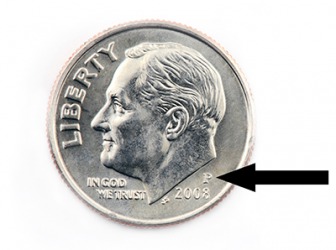 The 'P' stamped on the dime is the sigla for Philadelphia Mint.
noun
The definition of sigla are abbreviations or symbols with written meaning which are used in a book and typically explained at the beginning of the book.

An example of an abbreviation in the sigla would be U.S. which stands for the United States.
---
sigla
plural noun
sing.
sig′lum
abbreviations, symbols, etc. used in the scholarly edition of a text as to indicate manuscript sources
---
sigla

---