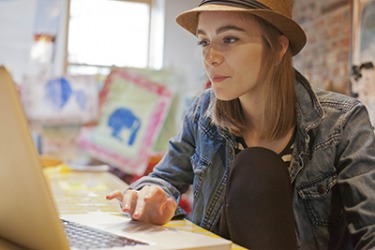 Robin downloaded the shareware to work on her school project.
noun
Shareware is copyrighted computer software that is developed and made available to individual end users for free on a trial basis.

Types of Shareware

Limited functionality - This shareware may allow you to only use certain parts of the software program.
Fully functional (but only on a demo basis) - These "demo versions" may physically lock out the software after a certain period of time if the user has not paid for the software.
Honor system - The maker of the program gives you a full set of the program, with no restrictions. Its makers ask that you send him or her money if you use the program and like it; and, if you do not use it or like it, they ask that you delete the software or stop using it.

An example of shareware a compression program like Stuffit for Macs or Windows.
An example of shareware is a budgeting software program that only allows you to use three categories instead of having the ability to create a full budget.
An example of shareware a demo program for which you can pay for a registration key that will unlock the sofware that you are already using.
---
shareware
copyrighted computer software that typically is available free of charge for trial use but that must be paid for by anyone who uses it regularly
Origin of shareware
share + -ware
---
shareware
noun
Copyrighted software that is available free of charge on a trial basis, usually with the condition that users pay a fee for continued use and support.
---
shareware

Origin
From share +"Ž -ware; popularized by Bob Wallace
---
shareware - Computer Definition
Software on the "honor system." The concept is that users try a product, and if they like it, they voluntarily pay a set registration fee or make a donation to the program's creator. There are tens of thousands of shareware programs; some fantastic, some awful. Typically written part time by individuals, shareware had its heyday in the 1980s and early 1990s. Although some applications were successful, the bulk were not, and most shareware evolved into trial versions that work for a limited time or lite versions that have limited functionality (see trialware and lite version). The Shareware Heydays Prior to the Web, "shareware vendors" copied hundreds of shareware programs onto floppy disks and CD-ROMs and sold them by mail order or at computer flea markets. They collected a small fee for the distribution service, although novices often thought it was the software registration fee. In the late 1990s, advertiser-supported shareware websites sprang up to provide distribution. See crippleware, freeware, public domain software, ad-supported software and wares.
---