semipermeable
sem·i·per·me·a·ble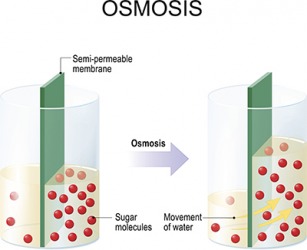 The water level rises on the side containing more sugar molecules by passing through the semipermeable membrane.
adjective
The definition of semipermeable is capable of only having certain things get through it.

An example of semipermeable is a selectively permeable membrane.
---
semipermeable
allowing some substances to pass; permeable to smaller molecules but not to larger ones, as a membrane in osmosis
---
semipermeable
adjective
Partially permeable.
Allowing passage of certain, especially small, molecules or ions but acting as a barrier to others. Used of biological and synthetic membranes.
Related Forms:
sem′i·per′me·a·bil′i·ty

noun
---
semipermeable

Adjective
(comparative more semipermeable, superlative most semipermeable)
Permeable to some things and not to others, as a cell membrane which allows some molecules through but blocks others substances.
---