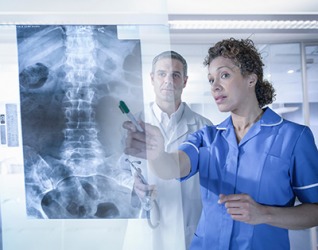 A sclerotic lesion on the bone could be caused by a multitude of medical conditions so therefore should be treated by a physician.
adjective
The definition of sclerotic is hard or having scoliosis.

An example of something sclerotic is a skeleton.
---
sclerotic
hard; sclerosed
of, characterized by, or having sclerosis
of the sclera
Origin of sclerotic
Modern Latin
scleroticus
from Classical Greek
skl?rot?s
, hardness: see sclera
---
sclerotic
adjective
Affected or marked by sclerosis.
Anatomy Of or relating to the sclera.
noun
---
sclerotic

Adjective
(not comparable)
Of or pertaining to the sclera
Having or relating to sclerosis.
Hard and insular.

sclerotic bureaucracy
Noun
(plural sclerotics)
(anatomy) The sclerotic coat of the eye.
---