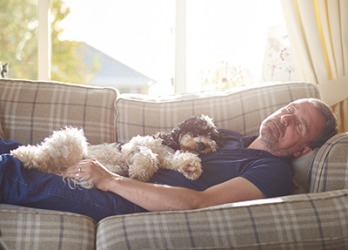 On days when Roy schlumps on the couch all afternoon, his dog Millie is happy to keep him company.
noun
The definition of a schlump is a sloppy or poorly dressed or stupid person.

An example of a schlump is someone dressed in clothes too big that are falling off.
verb
Schlump is slang for doing things lazily, in a foolish way or while poorly dressed.

An example of schlump is to lay around the house all day in your pajamas, not accomplishing any activities.
---
schlump
a person who is stupid, foolish, inept, boring, etc.
one who is sloppily or poorly dressed
Origin of schlump
Yiddish from German
schlampe
, slut
to go about lazily, sluggishly, or poorly dressed
---
schlump
also shlump
noun
Slang
A person who is neither neat nor stylish; a rumpled or dowdy person.
A person who is somewhat fat and unfit.
Origin of schlump
Yiddish
shlump
German
schlumpen
to hang loose
and English
slump
Related Forms:
schlump′y shlump′y

adjective
---
schlump

Origin
From Yiddish שלומפּ (shlump, "stupid, foolish, or inept person")
---