schadenfreude
scha·den·freu·de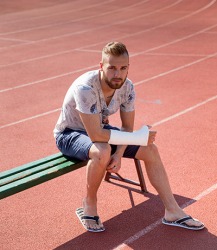 The backup quarterback had a feeling of schadenfreude when the starting quarterback broke his arm during the football game and had to sit out for the rest of the season.
noun
Schadenfreude is defined as feeling happy when something goes wrong for someone.

An example of schadenfreude is smiling when you find out that your ex-boyfriend's house burnt down.
---
schadenfreude
glee at another's misfortune
Origin of schadenfreude
German from
schaden
, to harm +
freude
, joy
---
schadenfreude
noun
Pleasure derived from the misfortunes of others.
Origin of schadenfreude
German
Schaden
damage
(
from
Middle High German
schade
) (
from
Old High German
scado
)
Freude
joy
(
from
Middle High German
vreude
) (
from
Old High German
frewida
) (
from
frō
happy
)
---
schadenfreude

---