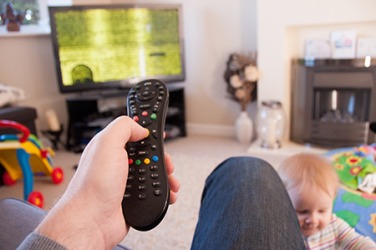 David had to rewind his show because baby Dylan was attempting to climb up on the sofa.
verb
To rewind is to reel or wind a tape or film backwards, or to otherwise reverse back on something.

When a VCR tape is playing and you want to go back five minutes and watch the prior scene again so you wind the tape back, this is an example of when you rewind.
---
rewind
transitive verb
-·wound′

,

-·wind′ing
to wind again; specif., to wind (film or tape) back onto the original reel
something rewound
the act of rewinding
---
rewind
verb
re·wound, re·wind·ing, re·winds
verb
transitive
To wind again or anew: rewound the thread on the spool.
To reverse the winding of (audiotape, videotape, or film).
To reverse the playing of (an audio or video recording).
verb
intransitive
a. To rewind an audiotape or other linear recording.

b. To be rewound: Let the tape rewind to the beginning.

To return to an earlier time or stage in a sequence of events.
noun
The act or process of rewinding or being rewound.
A control mechanism for rewinding tape or film, for example.
Related Forms:
---
rewind

Verb
(third-person singular simple present rewinds, present participle rewinding, simple past and past participle rewound)
Noun
(plural rewinds)
The act of rewinding.
Origin
From re- +"Ž wind.
---