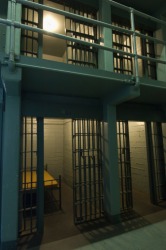 The rate of recidivism has declined in the state prison system as a result of an improved support system after they are released.
noun
Recidivism is a repeated relapse, or the rate at which criminals re-offend.

When 50 percent of criminals who get out of jail are back there within a year, this is an example of a 50 percent recidivism.
---
recidivism
habitual or chronic relapse, or tendency to relapse, esp. into crime or antisocial behavior
Origin of recidivism
from Classical Latin
recidivus
from
recidere,
to fall back from
re-,
back +
cadere,
to fall (see case) + -ism
---
recidivism
noun
The repeating of or returning to criminal behavior by the same offender or type of offender.
Origin of recidivism
From
recidivist
one who recidivates
from
French
récidiviste
from
récidiver
to relapse
from
Medieval Latin
recidīvāre
from
Latin
recidīvus
falling back
from
recidere
to fall back
re-
re-
cadere
to fall
; see
kad-
in Indo-European roots.
Related Forms:
re·cid′i·vis′tic re·cid′i·vous

adjective
---
recidivism

Origin
From Latin recidÄ«vus ("returning, recurring") (compare recidivous) +"Ž -ism.
---