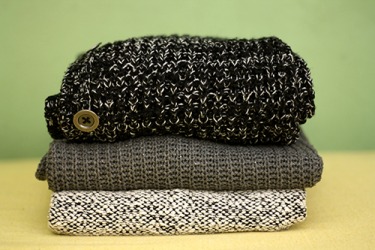 The top and bottom sweaters in the stack are woven in a ragg pattern.
adjective
The definition of ragg is something made of light and dark strands of yarn that create a flecked pattern.

An example of something ragg is a sweater made with light and dark colors of yarn.
---
ragg
made of or designating a sturdy yarn made up of multiple light and dark, esp. cream and gray, strands producing a flecked pattern: a ragg sweater
---