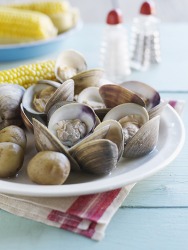 A popular side dish to go with quohog is fresh corn on the cob.
noun
The definition of a quohog, also spelled quahog, is an edible clam that lives on the eastern coast of North America.

An example of quohog is a hard-shell clam.
---
quohog
---
quohog

Noun
(plural quohogs)
Alternative form of quahog.
---