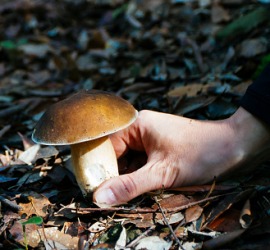 A porcino mushroom in the woods.
noun
Porcino is a large edible mushroom with a white stem and brown cap.

An example of a porcino is a wild and widely eaten mushroom that's great in risotto.
---
porcino
noun
pl.
-·ni
a large, fleshy, edible boletus mushroom (
Boletus edulis
) with a brown cap and a thick, white stem; cèpe:
usually used in pl.
Origin of porcino
It, literally , little pig, diminutive of
porco
, pig: reason for name uncertain
---