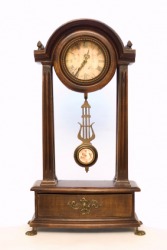 A pendulum in an old fashioned clock.
noun
The definition of a pendulum is an object that has been mounted to a fixed point that swings freely back and forth under the influence of gravity, or the tendency of trends or situations to shift from one extreme to another.

The weights fixed to a pivot point on the end of a chain in a grandfather clock that pivot back and forth to help regulate the clock mechanism is an example of a pendulum.
When popular home furniture styles shift from modern to traditional and back again, this is an example of the pendulum of taste.
---
pendulum
a weight hung from a fixed point so as to swing freely to and fro under the combined forces of gravity and momentum: often used in regulating the movement of clocks
Origin of pendulum
Modern Latin from neuter of Classical Latin
pendulus:
see pendulous
---
pendulum
noun
A body suspended from a fixed support so that it swings freely back and forth under the influence of gravity, commonly used to regulate various devices, especially clocks. Also called simple pendulum .
Something that swings back and forth from one course, opinion, or condition to another: the pendulum of public opinion.
Origin of pendulum
New Latin
probably from
Italian
pendolo
pendulous, pendulum
from
Latin
pendulus
hanging
; see
pendulous
.
---
pendulum

Noun
(plural pendulums or pendula) (See usage notes.)
Usage notes
The plural form pendula is significantly rarer than pendulums; see etymology at pendula for details. However, pendula is occasionally used in physics.
Origin
Neuter of Latin pendulus, "hanging".
---