pathology

pa·thol·o·gy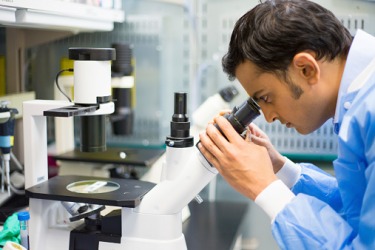 A scientist looking through a microscope.
noun
Pathology is defined as a branch of medical science that studies the nature, effects, causes and consequences of disease.

Preparing to Be a Pathologist

A person must go to school for a medical degree plus an additional three to four years, concentrating solely in the field of pathology.

There are also many sub-specialties in the field of pathology that a pathologists can choose to concentrate on when studying.
Pathologists are required to be board certified in the field of pathology once they have completed schooling.

Most pathologists choose to become either clinical pathologists working in a lab or anatomical pathologists who practice in a sub-specialty of anatomical pathology.

Pathologists work in hospital or private practice settings, looking at samples of tissue, blood, and fluid to identify abnormal factors of the samples and make a diagnosis of a patient's condition and the disease that is causing their bodies to behave abnormally.

An example of pathology is when a pathologist studies the cells removed during a biopsy to test for signs of cancer.
---
pathology
noun
pl.
-·gies
the branch of medicine that deals with the nature of disease, esp. with the structural and functional changes caused by disease
all the conditions, processes, or results of a particular disease
any abnormal variation from a sound or proper condition
Origin of pathology
from French
pathologie
or Modern Latin
pathologia
from Classical Greek
pathologia:
see pathos and -logy
---
pathology
noun
pl.
pa·thol·o·gies
The scientific study of the nature of disease and its causes, processes, development, and consequences. Also called pathobiology .
The anatomic or functional manifestations of a disease: the pathology of cancer.
A departure or deviation from a normal condition: "Neighborhoods plagued by a self-perpetuating pathology of joblessness, welfare dependency, crime" ( Time )
Related Forms:
---
pathology

Noun
(plural pathologies)
(medicine) The branch of medicine concerned with the study of the nature of disease and its causes, processes, development, and consequences.
Any deviation from a healthy or normal condition; abnormality.
Origin
From Ancient Greek πάθος (pathos, "disease") and -λογία (-logia, "study of").
---