noun
The definition of a partyer is someone who goes to a lot of parties, dance clubs, drinks a lot of alcohol or takes drugs.

An example of a partyer is a person who goes out dancing and drinking every night.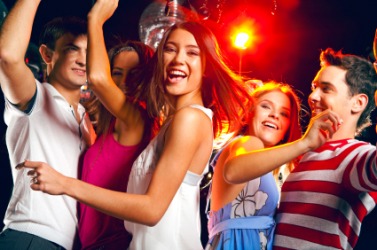 A group of partyers.
---
partyer
---
partyer
Variant of party
noun
pl.
parties
a group of people working together to establish or promote particular theories or principles of government which they hold in common; esp., an organized political group which seeks to elect its candidates to office and thus to direct government policies
any group of persons acting together; specif.,

a group sent out on a task or mission: a surveying party
a group meeting together socially to accomplish a task: a quilting party
a group assembled for amusement or recreation: a fishing party

a gathering for social entertainment, or the entertainment itself, often of a specific nature: a birthday party, cocktail party
a person who participates or is concerned in an action, proceeding, plan, etc.: often with to: to be a party to a conspiracy
either of the persons or sides concerned in a legal matter

Informal

a person: the party who telephoned
Origin of party
Middle English
partie
; from Old French ; from
partir,
to divide ; from Classical Latin
partiri
; from
pars,
part
adjective
of or having to do with a political party: a party leader
for a social gathering: party clothes