panicle

pan·i·cle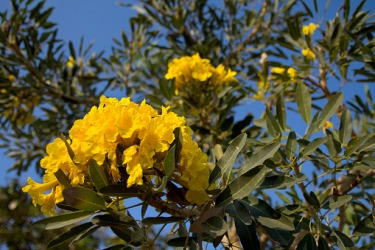 A yellow panicle of a Tabebuia aura tree.
noun
The definition of a panicle is a cluster of flowers on a branch.

A lilac is an example of a panicle.
---
panicle
a loose, irregularly branched, indeterminate flower cluster; compound raceme
Origin of panicle
Classical Latin
panicula,
tuft on plants, panicle, diminutive of
panus,
a swelling, ear of millet: see panic
---
panicle
noun
A loosely branched inflorescence, especially a branching raceme.
Origin of panicle
Latin
pānicula
feminine diminutive of
pānus
a swelling, main stalk of a panicle
Related Forms:
pan′i·cled pa·nic′u·late′

adjective
panicle
---
panicle

Noun
(plural panicles)
(botany) A compound raceme.
Origin
From Latin panicula, diminutive of panus ("ear of millet, literally 'thread wound on a bobbin'"), from Ancient Greek πῆνος (pÄ"nos, "web"), πηνίον (pÄ"nion, "bobbin").
---