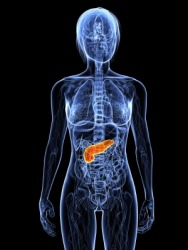 An illustration of the pancreas.
noun
The pancreas is a long gland located behind the stomach that secretes digestive juices into the small intestine.

An example of a pancreas is the organ that produces insulin to regulate glucose in the body.
---
pancreas
a large, elongated gland situated behind the stomach and secreting a digestive juice (pancreatic juice) into the small intestine: groups of differentiated cells (islets of Langerhans) in the gland produce the hormone insulin: the pancreas of animals, used as food, is usually called sweetbread
Origin of pancreas
Modern Latin from Classical Greek
pankreas
from
pan,
all (see pan-) +
kreas,
flesh (see crude)
---
pancreas
noun
A long, irregularly shaped gland in vertebrates, lying behind the stomach, that secretes pancreatic juice into the duodenum and insulin, glucagon, and somatostatin into the bloodstream.
Origin of pancreas
Greek
pankreas
pan-
pan-
kreas
flesh
; see
kreuə-
in Indo-European roots.
Related Forms:
pancreas
---
pancreas

Noun
(plural pancreases or pancreata)
(anatomy) A gland near the stomach which secretes a fluid into the duodenum to help with food digestion. The fluid contains protease, carbohydrase and lipase, which breaks down larger molecules into smaller pieces. The pancreas also produces the hormones insulin and glucagon which regulate blood sugar. These hormones are released into the cardiovascular system.
Origin
Existing in English since the sixteenth century: from Latin pancreas, from Ancient Greek πάγκρεας (pankreas), from πᾶν (pan, "all") (equivalent to English pan-) + κρέας (kreas, "flesh").
---