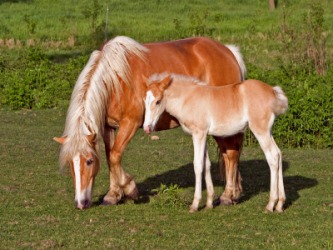 A beautiful palomino mare with her foal.
---
palomino definition by Webster's New World
☆
noun
pl.
palominos
a golden-tan or cream-colored horse that has a white, silver, or ivory tail and, often, white spots on the face and legs
Origin: American Spanish ; from Spanish dove-colored ; from Classical Latin palumbinus ; from palumbes, a pigeon, ringdove ; from Indo-European base an unverified form pel-, gray, pale (from source pale, fallow): form probably influenced, influence by Classical Latin columba: see columbarium
Webster's New World College Dictionary Copyright © 2010 by Wiley Publishing, Inc., Cleveland, Ohio. Used by arrangement with John Wiley & Sons, Inc.
---
palomino definition by American Heritage Dictionary
noun
pl.
pal·o·mi·nos
A horse with a golden or tan coat and a white or cream-colored mane and tail, thought to have been developed from Arabian stock.
Origin: American Spanish, from Spanish, young dove, perhaps from Italian palombino, dove-colored, from Latin palumbīnus, pertaining to ringdoves, from palumbēs, ringdove; see pel-1 in Indo-European roots.