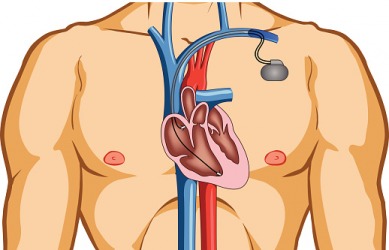 An illustration of pacemaker in the chest.
noun
The definition of the pacemaker is a small device used in medicine to regulate the beating of a heart.

Facts About the Pacemaker

In 1926, Dr. Mark Lidwell, along with Edgar Booth, invented a portable device that could plug into a lighting point and the other half of the device could be plug into the corresponding cardiac chamber.
Albert Hyman created his own version of the pacemaker in 1932. His device was powered by a spring-wound, hand-cranked motor.
In 1950, John Hopps then built the first external pacemaker.
In 1957, Earl Bakken created the first wearable external pacemaker.
In 1958, the completely implantable pacemaker was inserted into an individual in Sweden. Unfortunately, the device was not successful and failed after three hours. The patient, Arne Larsson, received over twenty different pacemakers in his lifespan.
In 1971, isotopes were replaced with lithium anode cells. The creation of a titanium metal encasement for the pacemaker was the final major breakthrough in the field.

An example of the pacemaker is a small device that is implanted in the chest that uses electrical impulses to regulate the heart beat.
---
pacemaker
a runner, horse, automobile, etc. that sets the pace for others, as in a race
a person, group, or thing that leads the way or serves as a model

Anat.

a dense network of interwoven, specialized muscle fibers in the right atrium of the heart that controls the rhythm of the electrical impulses that cause the heartbeat
any of several body parts that control the rhythm of a biological activity, as an area in the stomach that controls stomach contractions

Med.

an electronic device implanted within the body and connected to the wall of the heart, designed to provide regular, mild electric shocks that stimulate contraction of the heart muscles and restore normalcy to the heartbeat
---
pacemaker
noun
Sports One who sets the pace in a race. Also called pacer . Also called pacesetter .
A leader in a field: the fashion house that is the pacemaker. Also called pacesetter .

a. A part of the body, such as the mass of muscle fibers of the sinoatrial node, that sets the pace or rhythm of physiological activity.

b. Any of several usually miniaturized and surgically implanted electronic devices used to stimulate or regulate contractions of the heart muscle.
Related Forms:
pace′mak′ing

adjective

noun
---
pacemaker

Noun
(plural pacemakers)
One who sets the pace in a race, to guide the others.
(hence, medicine) A medical implement that is used to stimulate a heart to beat by simulating the action of the natural pacemaker.
---