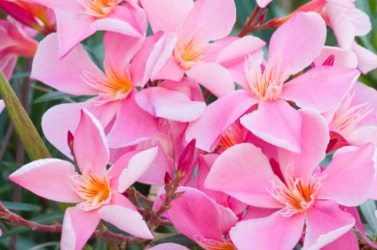 Pink oleander flowers.
---
oleander definition by Webster's New World
noun
a poisonous evergreen shrub (Nerium oleander) of the dogbane family, with fragrant flowers of white, pink, or red and narrow, leathery leaves
Origin: Midieval Latin earlier also lorandrum: altered ; from uncertain or unknown; perhaps Classical Latin rhododendron
Webster's New World College Dictionary Copyright © 2010 by Wiley Publishing, Inc., Cleveland, Ohio. Used by arrangement with John Wiley & Sons, Inc.
---
oleander definition by American Heritage Dictionary
noun
A poisonous Eurasian evergreen shrub (Nerium oleander) having fragrant white, rose, or purple flowers, whorled leaves, and long follicles containing numerous comose seeds. Also called rosebay.
Origin: Medieval Latin, probably alteration (influenced by Latin olea, olive) of Late Latin lorandrum, rhododendron, alteration (probably influenced by Latin laurea, lōrea, laurel, because of its similar-shaped leaves) of Late Latin rodandrum, from Latin rhododendron; see rhododendron.