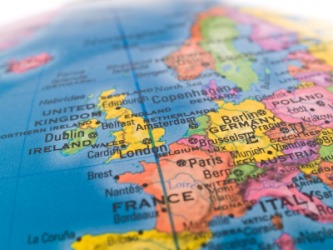 Occidental is something from the west.
adjective
The definition of occidental is something from the Western part of the world including Europe and America.

Fashion from Europe is an example of something occidental.
---
occidental
Old Poet.

western
[O-] of the Occident or its people or culture; Western
Origin of occidental
Middle English
occidentale
[usuallyO-] a person born in the Occident or a member of a people of that region
---
occidental
or Oc·ci·den·tal
adjective
Of or relating to the countries of the Occident or their peoples or cultures; western.
noun
A native or inhabitant of an Occidental country; a westerner.
---
occidental

Adjective
(comparative more occidental, superlative most occidental)
Of, pertaining to, or situated in, the occident, or west; western. [from 16th c.]

occidental climates, or customs; an occidental planet.
Noun
(plural occidentals)
A Western Christian of the Latin rite
Origin
From Old French occident, from Latin occidentem ("western sky, part of the sky in which the sun sets"), from occido ("go down, set")
Adjective
Alternative capitalization of occidental
---