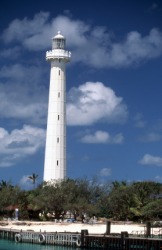 A lighthouse on New Caledonia.
---
New Caledonia
French island in the SW Pacific, east of Australia: with nearby islands an overseas territory of France: 7,172 sq mi (18,575 sq km); pop. 164,000; cap. Nouméa
---
New Caledonia
A French overseas territory in the southwest Pacific Ocean consisting of the island of New Caledonia and several smaller islands. The island of New Caledonia was sighted and named by Capt. James Cook in 1774 and annexed by France in 1853. It was a penal colony from 1864 to 1922. Nouméa is the capital.
---
New Caledonia
---