mitosis

mi·to·sis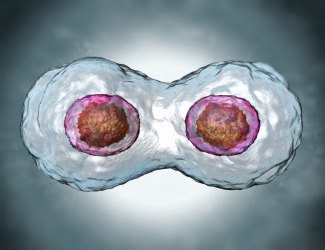 Mitosis in progress.
noun
Mitosis is the process of dividing a cell and its nucleus into two cells which each have their own nucleus.

An example of mitosis is the way the skin cells covering a child's body all multiply while they are growing.
---
mitosis
noun
pl.
-·ses·
Biol.
the indirect and more common method of nuclear division of cells, consisting typically of prophase, metaphase, anaphase, and telophase: the nuclear chromatin first appears as long threads which shorten and thicken to form the typical number of chromosomes, each of which splits lengthwise to double in number, with half of each set then moving toward opposite poles of the cell to become reorganized into two new nuclei with the normal number of chromosomes
Origin of mitosis
Modern Latin from Classical Greek
mitos,
thread + -osis
---
mitosis
noun
pl.
mi·to·ses,
Biology
The process in cell division by which the nucleus divides, typically consisting of four stages, prophase, metaphase, anaphase, and telophase, and normally resulting in two new nuclei, each of which contains a complete copy of the parental chromosomes. Also called karyokinesis .
The entire process of cell division including division of the nucleus and the cytoplasm.
Origin of mitosis
Greek
mitos
warp thread
-osis
Related Forms:
mitosis
---
mitosis

---