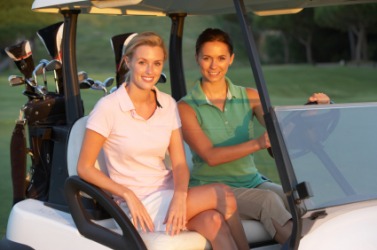 Golfers riding in a kart.
---
kart
noun
☆ any of various small, wheeled vehicles with or without a motor: so used chiefly as part of certain trademarked names
☆ a small, flat, 4-wheeled, motorized vehicle seating one person: used for recreation and in special racing events ()
Origin of kart
arbitrary alteration of cart
---
kart
noun
A miniature car used in racing. Also called go-cart.
Origin of kart
Probably from
GoKart
,
a trademark
.
Related Forms:
---
kart
Verb
(third-person singular simple present karts, present participle karting, simple past and past participle karted)
To ride in a go-cart.
See also:
Kärt
---