jury

ju·ry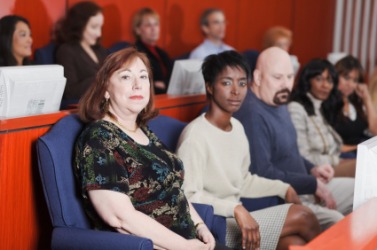 A seated jury.
noun
The definition of a jury is a group of people appointed to decide a verdict.

An example of a jury is twelve men and women selected to decide if a person is guilty or innocent in a murder trial.
---
jury
noun
pl.
-·ries
a group of people sworn to hear the evidence and inquire into the facts in a law case, and to give a decision in accordance with their findings
a group of people, often experts, selected to decide the winners or participants in a competition, exhibition, etc.
Origin of jury
Middle English
jure
from Anglo-French
juree
from OFr, oath, judicial inquest from Medieval Latin
jurata,
a jury, properly feminine past participle of Classical Latin
jurare,
to take an oath, swear from
jus
(gen.
juris
), law from Indo-European an unverified form
yewos,
fixed rule from source Old Irish
huisse,
just
Naut.
for temporary or emergency use; makeshift:
a jury mast, jury rig
Origin of jury
from uncertain or unknown; perhaps
---
jury
noun
pl.
ju·ries
Law A body of persons selected to decide a verdict in a legal case, based upon the evidence presented, after being given instructions on the applicable law. Also called petit jury . Also called trial jury .
A committee that judges contestants or applicants, as in a competition or exhibition; a panel of judges.
transitive verb
ju·ried, ju·ry·ing, ju·ries
To judge or evaluate by a jury: jurying submitted samples for a crafts fair.
Origin of jury
Middle English
jure
from
Anglo-Norman
juree
from
feminine past participle of
jurer
to swear
from
Latin
iūrāre
from
iūs
iūr-
law
; see
yewes-
in Indo-European roots.
adjective
Nautical
Intended or designed for temporary use; makeshift: a jury sail.
Origin of jury
From
jury-rig
---
jury

Noun
(plural juries)
(law) A group of individuals chosen from the general population to hear and decide a case in a court of law.
A group of judges in a competition.
Verb
(third-person singular simple present juries, present participle jurying, simple past and past participle juried)
To judge by means of a jury.
Adjective
(not comparable)
(nautical) For temporary use; applied to a temporary contrivance.

jury mast; jury rudder
---
jury - Legal Definition
n
A group of individuals selected and sworn in to serve as the finders of fact in a civil or criminal trial, or in the case of a grand jury, to decide whether the facts warrant an indictment of the defendant.
blue-ribbon jury
A jury for which only highly educated individuals have been selected, because they will be dealing with technical subject matter.
grand jury
A jury selected and sworn in by a prosecutor to determine whether to issue indictments.
petit jury
A jury selected to decide the facts in a trial (effectively, any jury other than a grand jury).
---