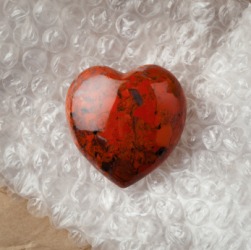 A piece of jasper in the shape of a heart.
---
jasper
noun
a type of chert quartz that is usually reddish due to the presence of hematite

Bible

a precious stone, probably an opaque green quartz
a kind of porcelain developed by Wedgwood, having a dull surface in green, blue, etc., with raised designs, usually in white
Origin of jasper
Middle English
jaspre
; from Middle French ; from Classical Latin
iaspis
; from Classical Greek a green precious stone, probably akin to Classical Hebrew (language)
yāšpeh
noun
a masculine name: equiv. Fr. Gaspard, Ger. Kasper, Sp. Gaspar
Origin of Jasper
Old French
Jaspar
; from uncertain or unknown; perhaps
---
jasper
noun
An opaque cryptocrystalline variety of quartz that may be red, yellow, or brown.
Origin of jasper
Middle English
jaspre
, from Anglo-Norman, from Latin
iaspis, iaspid-
, from Greek
iaspis
, from Persian
yašm, yašb
, from Arabic
yašb
; akin to Hebrew
yāš&schwa;pe
, perhaps from blend of Akkadian
yašpu
,
chalcedony (sense uncertain)
and Akkadian
ašpû
,
jasper
(
perhaps of Sumerian origin
).
---
jasper
Noun
(uncountable)
(mineralogy) An opaque, impure variety of quartz, of red, yellow, and other dull colors, breaking conchoidally with a smooth surface.
Jasperware pottery.
Origin
From Old French jaspre, a variant of jaspe (modern French jaspe), from Latin iaspis, from Ancient Greek ἴασπις (iaspis), ultimately (via an oriental language) from Persian یشپ (yašp).
Noun
(plural jaspers)
(UK, colloquial) A wasp. (West Country dialects, Somerset County)
(US, slang) A person, a guy, especially seen as naïve or simple.
Origin
From the male personal name Jasper.
---
jasper - Computer Definition
---