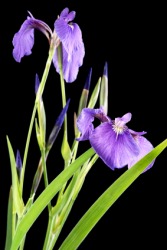 A beautiful Japanese iris.
---
Japanese iris
any of several tall, beardless irises with showy flowers, esp. a species (Iris kaempferi) commonly cultivated in gardens
---
Japanese iris
noun
A plant of any of various cultivars of an iris (Iris ensata) native to Japan, having large blue to red-violet flowers.
---