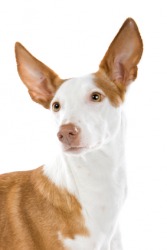 An Ibizan hound.
---
Ibizan hound
any of a breed of tall, slender dog whose ancestry can be traced to ancient Egypt, characterized by a long, narrow head and a short or wirehaired coat, usually of red or red and white
---
Ibizan hound
noun
A swift, slender, medium-sized hunting dog developed in the Balearic Islands, having a red and white coat of short or wiry hair.
Origin of Ibizan hound
After
Ibiza
.
Ibizan hound
---
Ibizan hound
---