gyroscope
[jī′rō skōp′, -rə-]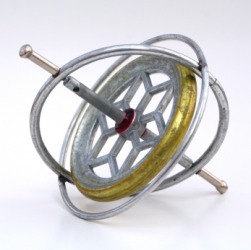 A gyroscope.
---
gyroscope
noun
a wheel mounted in a set of rings so that its axis of rotation is free to turn in any direction: when the wheel is spun rapidly, it will keep the original direction of its rotation axis no matter which way the ring is turned: gyroscopes are used in gyrocompasses and to keep moving ships, airplanes, etc. level
Origin of gyroscope
gyro- + -scope
---
gyroscope
noun
A device consisting of a spinning mass, typically a disk or wheel, mounted on a base so that its axis can turn freely in one or more directions and thereby maintain its orientation regardless of any movement of the base.
Related Forms:
gy′ro·scop′i·cal·ly

adverb
gyroscope
---
gyroscope
Noun
(plural gyroscopes)
an apparatus composed of a wheel which spins inside of a frame (gimbal) and causes the balancing of the frame in any direction or position. In the form of a gyroscopic stabilizer, used to help keep aircraft and ships steady.
---