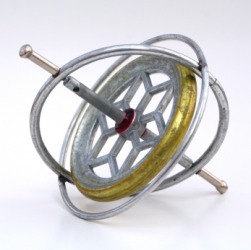 A gyroscope.
---
gyroscope definition by Webster's New World
noun
a wheel mounted in a set of rings so that its axis of rotation is free to turn in any direction: when the wheel is spun rapidly, it will keep the original direction of its rotation axis no matter which way the ring is turned: gyroscopes are used in gyrocompasses and to keep moving ships, airplanes, etc. level
Origin: gyro- plush -scope
Webster's New World College Dictionary Copyright © 2010 by Wiley Publishing, Inc., Cleveland, Ohio. Used by arrangement with John Wiley & Sons, Inc.
---
gyroscope definition by American Heritage Dictionary
noun
A device consisting of a spinning mass, typically a disk or wheel, mounted on a base so that its axis can turn freely in one or more directions and thereby maintain its orientation regardless of any movement of the base.
Related Forms:
gyˌro·scopˈi·cal·ly

adverb
The American Heritage® Dictionary of the English Language, 4th edition Copyright © 2010 by Houghton Mifflin Harcourt Publishing Company. Published by Houghton Mifflin Harcourt Publishing Company. All rights reserved.
---
gyroscope - Science Definition
An instrument consisting of a heavy disk or wheel spun rapidly about an axis like a top. The angular momentum of the disk causes it to resist changes in the direction of its axis of rotation, due to the principle of conservation of angular momentum. Because of the gyroscope's tendency to remain oriented in one direction, it is used as a stabilizing device in missiles, as well as in the navigation and piloting systems of airplanes, ships, rockets, and other vehicles.