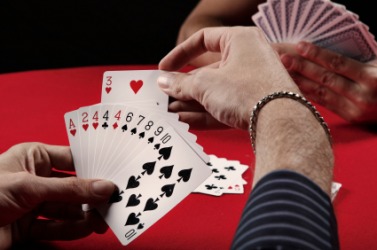 A game of gin rummy.
---
gin rummy
☆
a variety of rummy in which a hand with unmatched cards totaling no more than 10 points may be exposed: the hand exposed wins or loses points, depending on whether the opponent's unmatched cards add up to a higher or lower total
Origin of gin rummy
origin, originally , a play on gin, suggested by
rhum
, early form of rummy,
---
gin rummy
noun
A variety of rummy for two or more persons in which a player may win by matching all his or her cards or may end the game by melding with unmatched cards that add up to ten points or fewer.
---
gin rummy
Noun
(uncountable)
(card games) A card-holding game and variant of rummy.
---