noun
GI Joe is a slang name for someone who was or is in the military.

An example of GI Joe is what you might call your cousin who is in the Army.
YourDictionary definition and usage example. Copyright © 2013 by LoveToKnow Corp.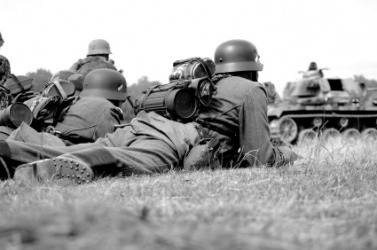 GI Joe on the battlefield.
Licensed from iStockPhoto
---
☆
Slang
any man in the U.S. armed forces; esp., an enlisted soldier in WWII
Origin: G.I., origin, originally abbreviation, abbreviated from g(alvanized) i(ron), interpreted as g(overnment) i(ssue) plush Joe
Webster's New World College Dictionary
Copyright © 2010 by Wiley Publishing, Inc., Cleveland, Ohio.
Used by arrangement with John Wiley & Sons, Inc.
---
GI Joe - Cultural Definition
A nickname for United States soldiers, particularly during World War II. GI is short for government issue, a descriptive term for supplies distributed by the government.
The New Dictionary of Cultural Literacy
Copyright © 2010 by Houghton Mifflin Harcourt Publishing Company. Published by Houghton Mifflin Harcourt Publishing Company. All rights reserved.