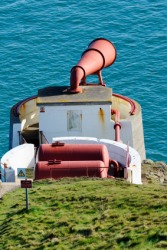 A foghorn overlooking the water.
---
foghorn
noun
a horn on a ship, lighthouse, buoy, etc. sounded as a warning during a fog
a loud, strident voice
---
foghorn
noun
Nautical A horn for sounding warning signals in fog or darkness, used especially on ships, buoys, and coastal installations.
A booming, insistent voice.
---
foghorn
---